Washing Machine Programming Guide
---
Share feedback
Thanks for sharing your feedback!
The following document is to be used by Vehicle Leaders and Assistant Vehicle Leaders when setting up a new LG washing machine. For our services, we program the washing machine to use as little water, and take as little time as possible.
All washer heating elements must be disabled to avoid tripping inverter (in all battery powered vehicles)
Programming 10kg Washers
To program the 'standard' 30 minute wash cycle, follow the steps below.
The code in brackets is how each setting is displayed on the screen.
Note: Different machine models may have slightly different features. Find the manual for your machine here, or search online for the model number.
Change to 'FREE' vend type (Pdtd)
From unboxing, you will need to set the payment type to 'FREE' before being able to use/change settings.
To enter L9C1, press the Hot and Cold button at the same time.
Press the 'Warm' button three times until 'L9C1' appears then follow prompts below
Disable tub clean heating element (tcHt)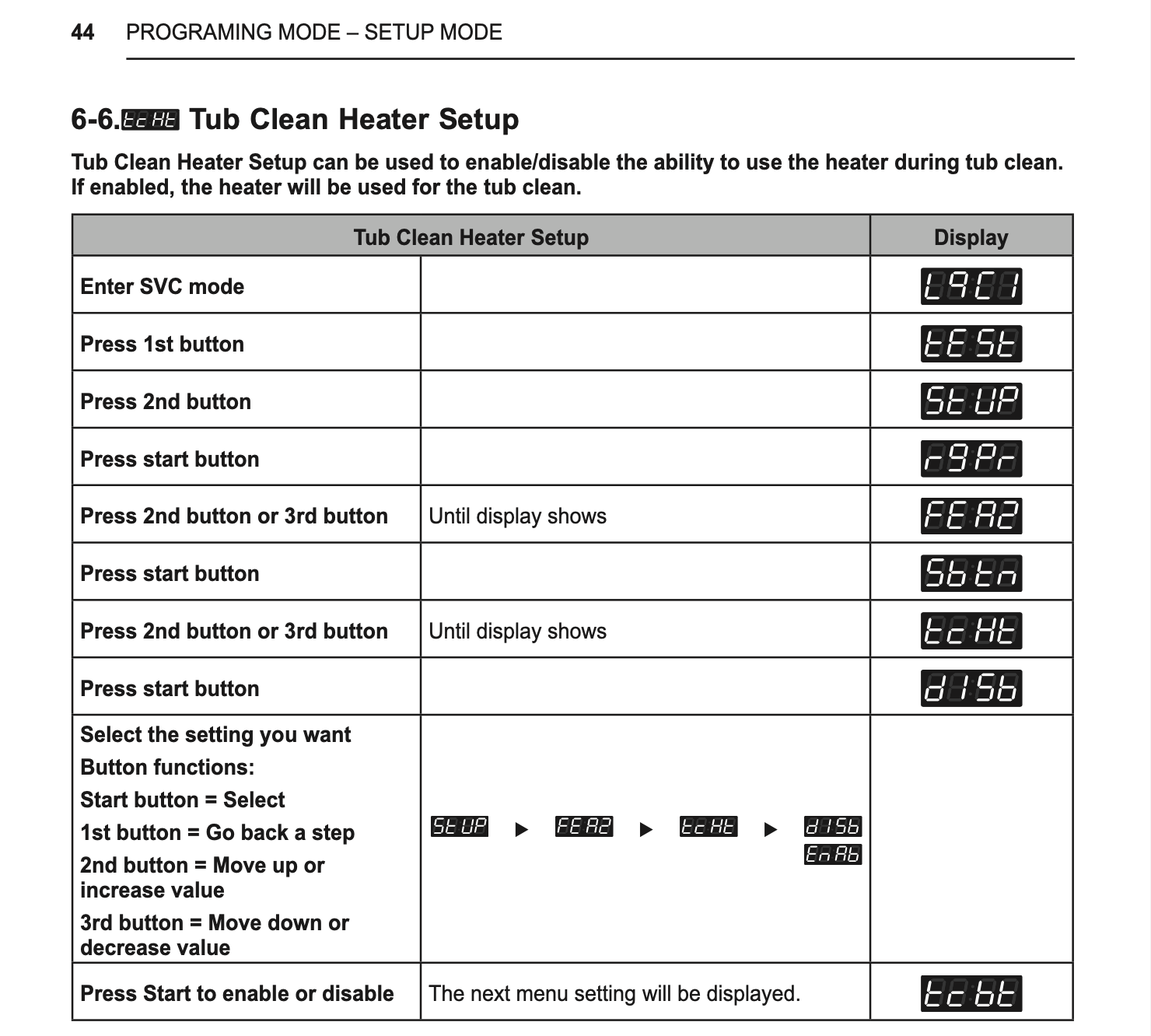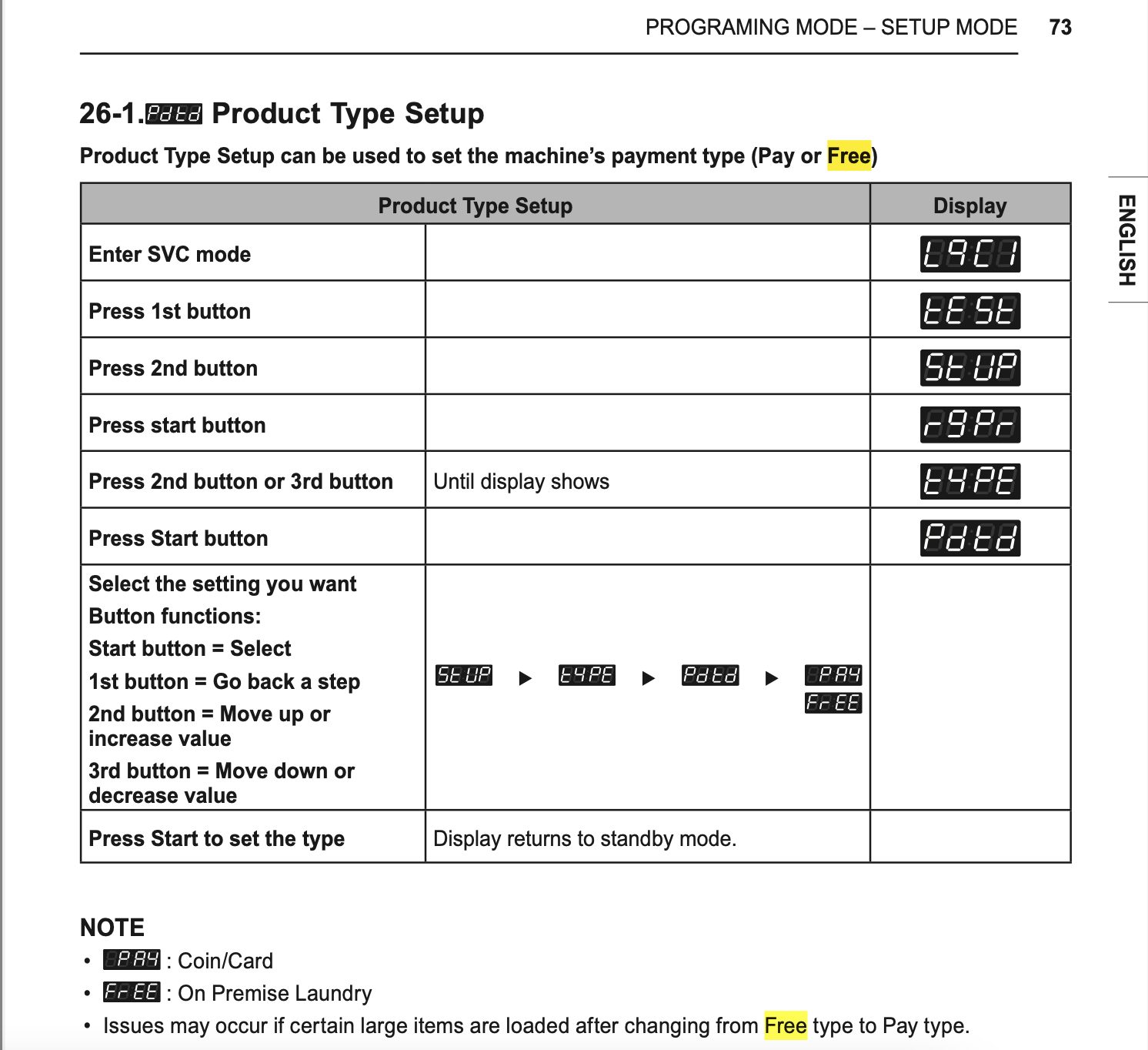 Water level (UULE)
Metro: Set to Low (LOW)
Remote: Set to High (HI)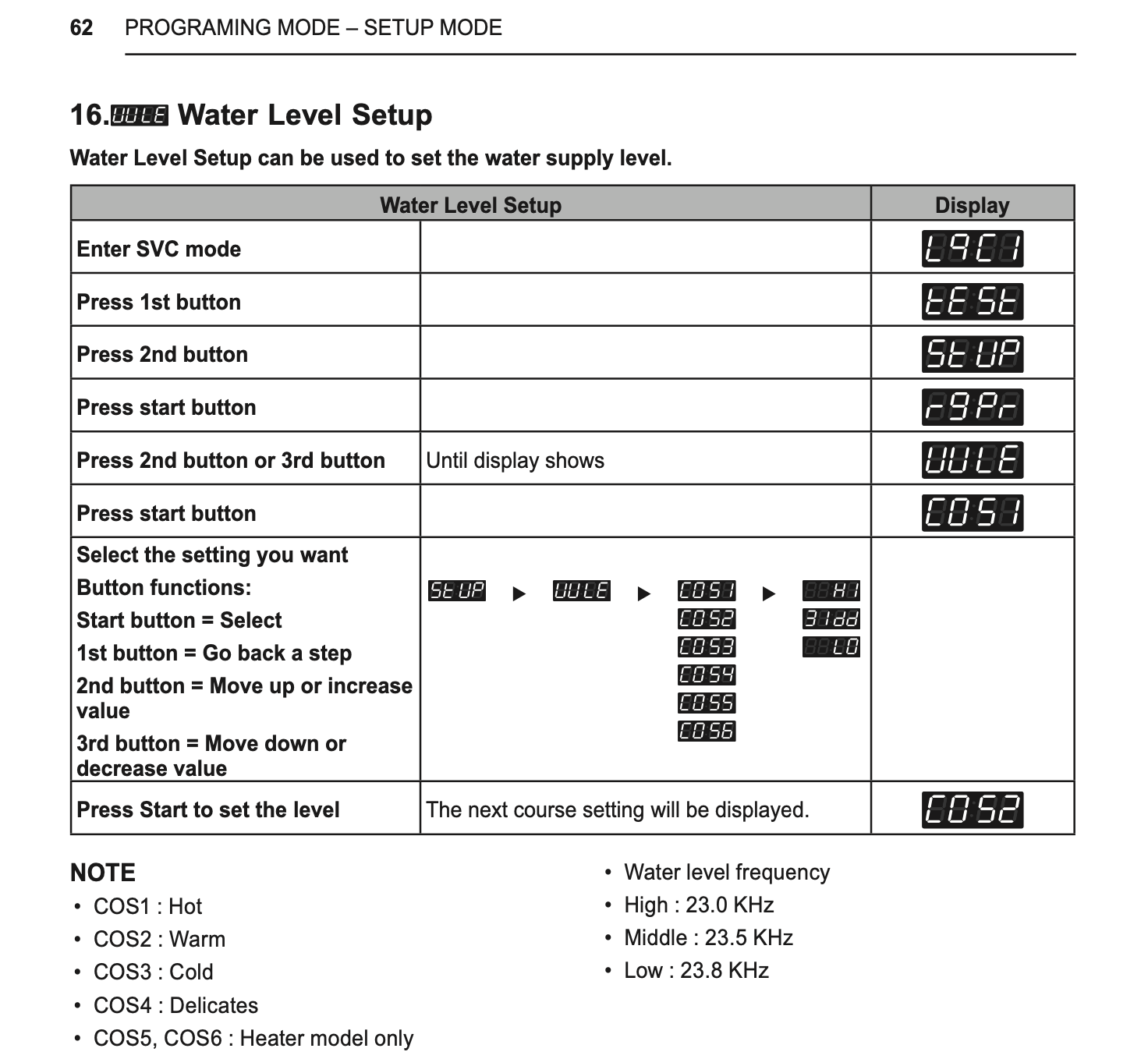 Top spin speed (tssd)
Set to '0' Fastest RPM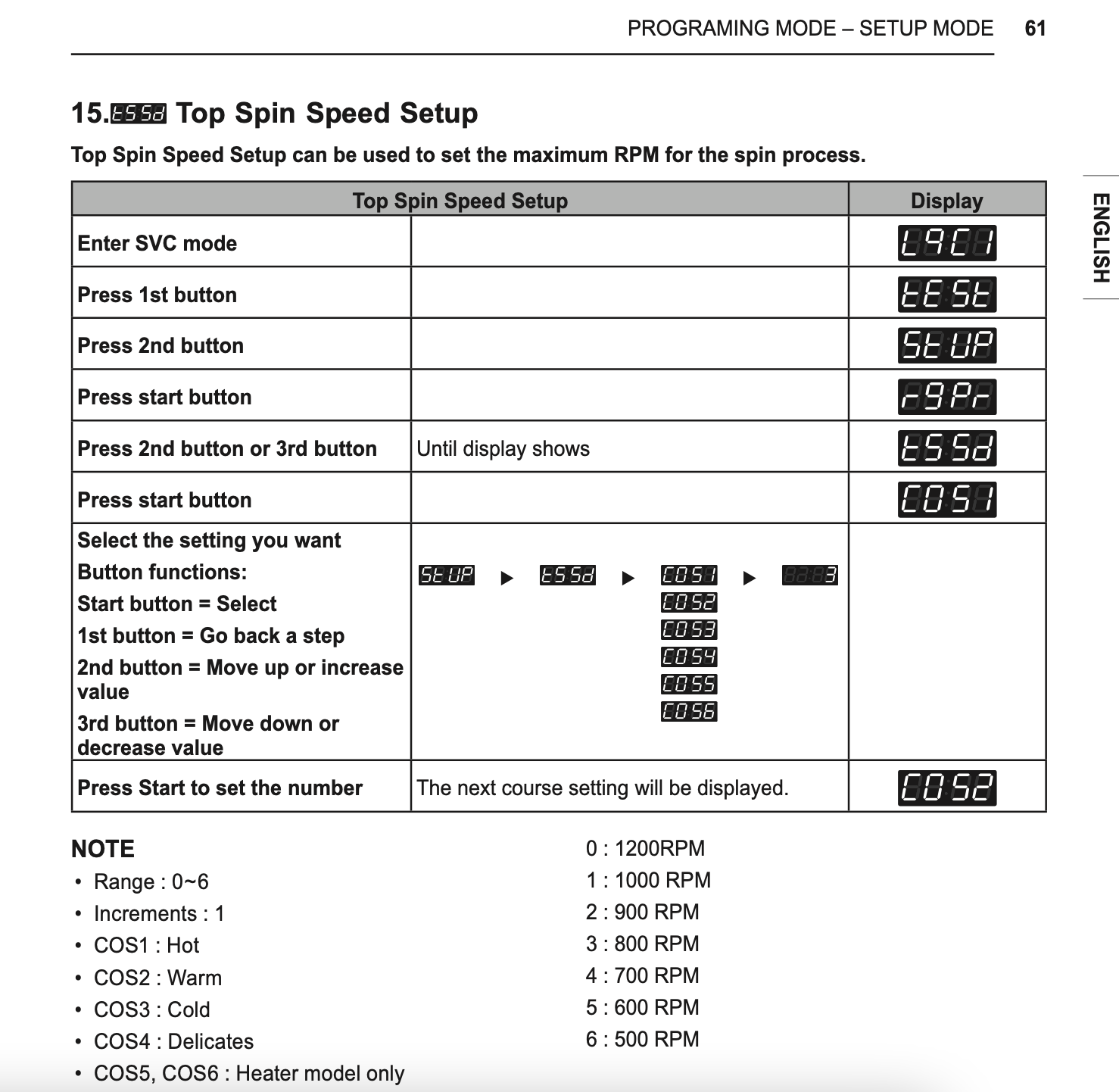 Rinse time (rt)
Set to 8 mins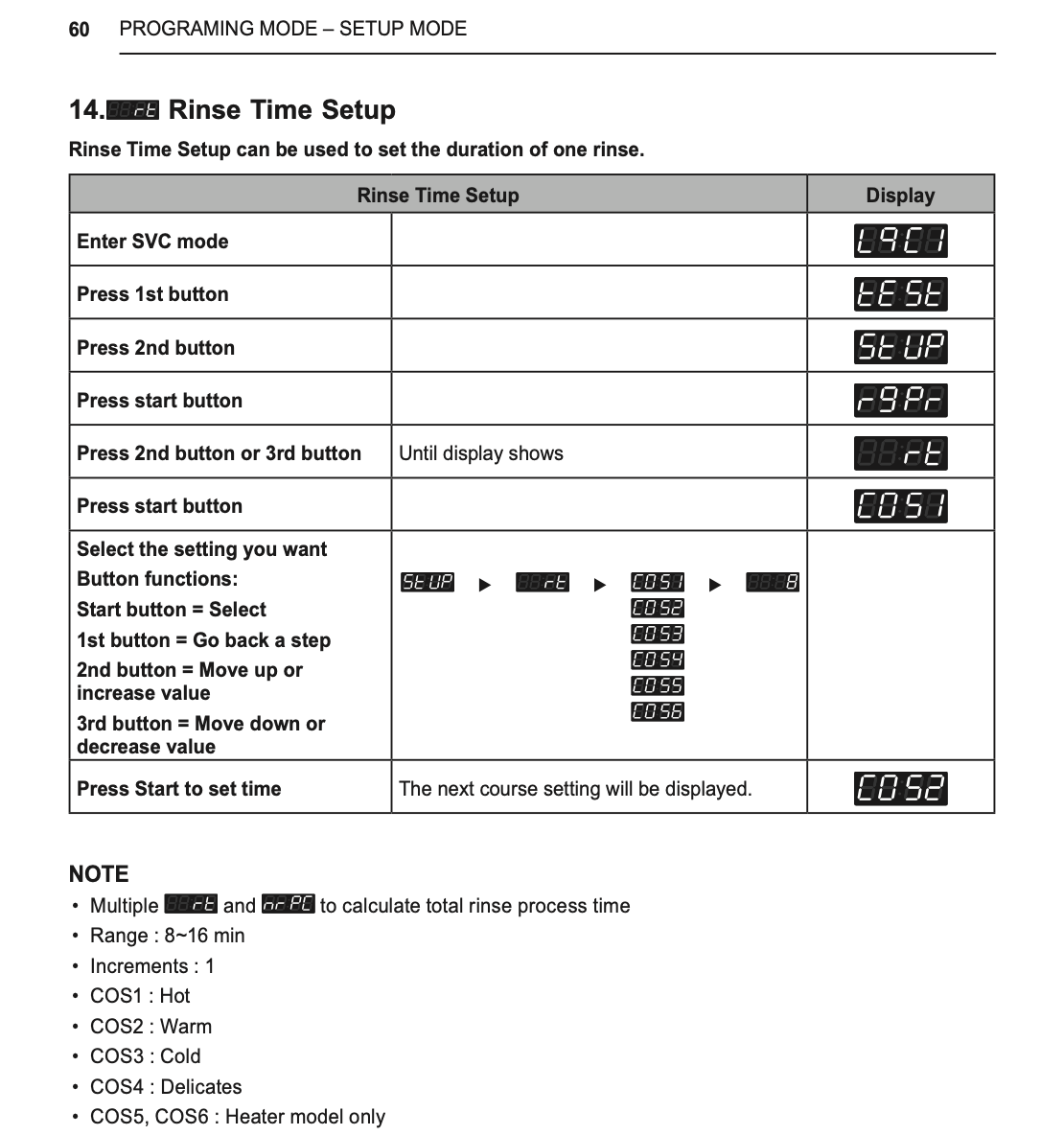 Number of rinses per cycle (nrPC)
Set to 1 rinse per cycle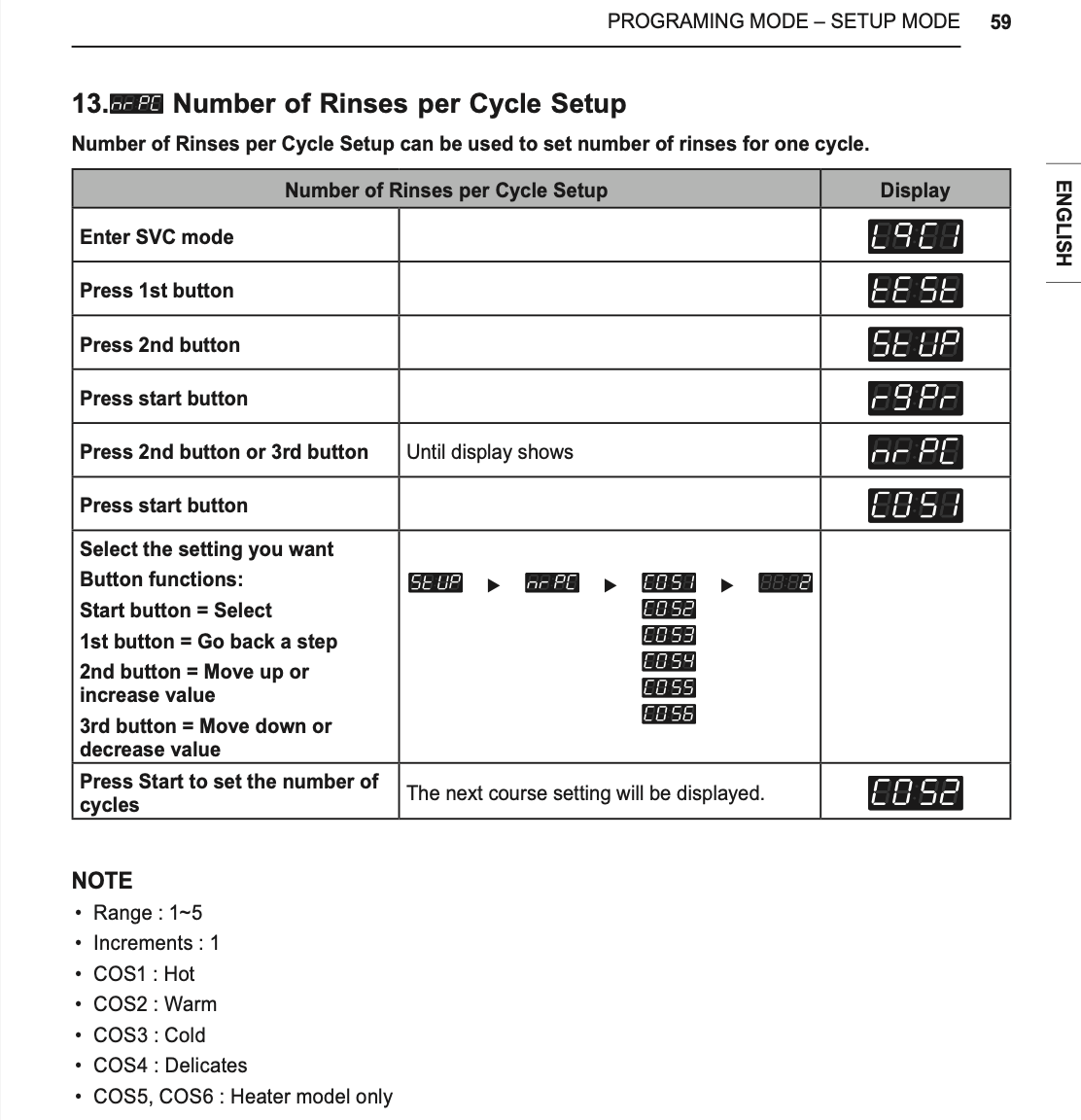 Washing time (CCCC)
Set to 10 mins.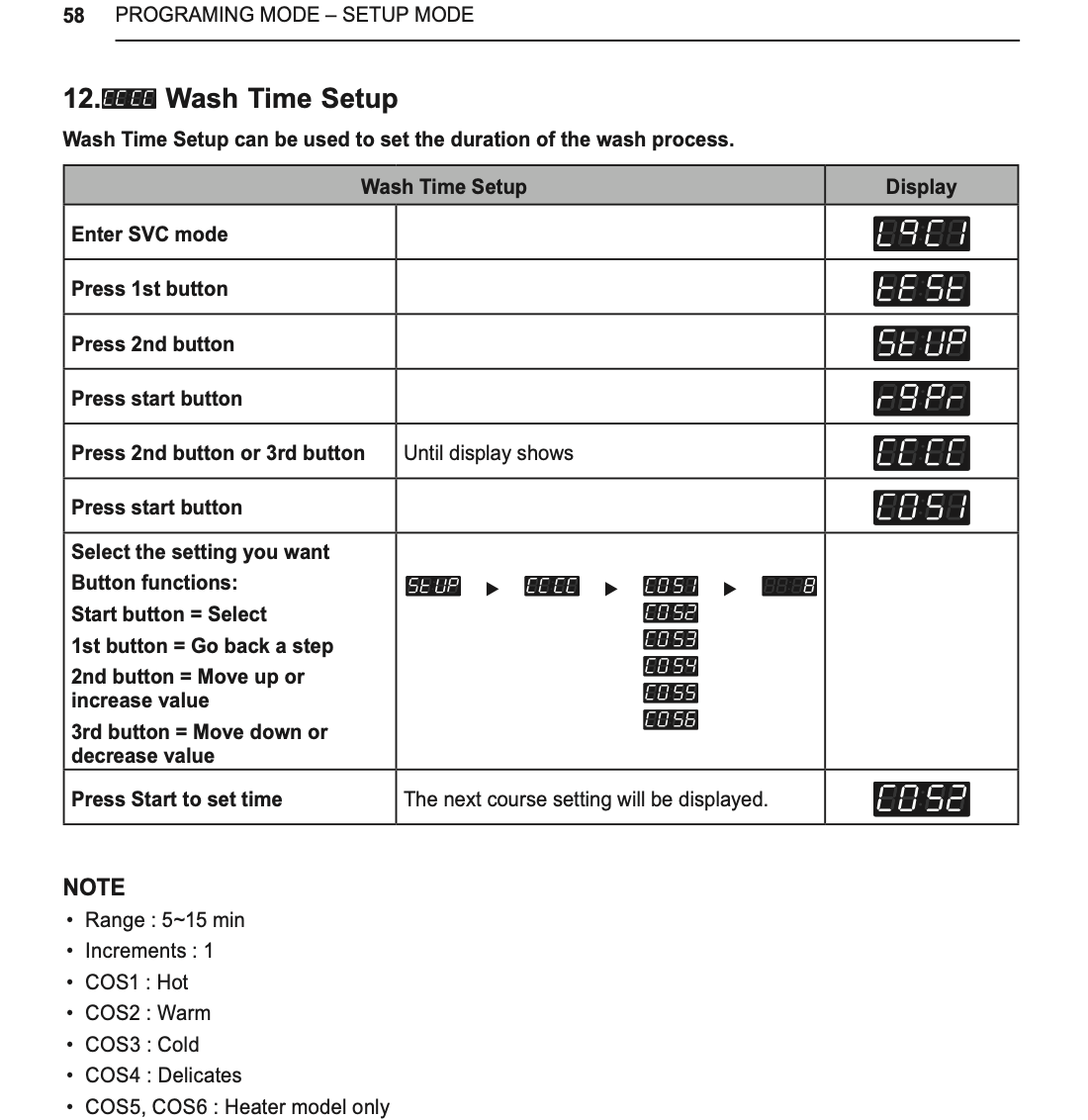 Max RPM for load weight & balance (3RPL)
Set to 'Enabled'.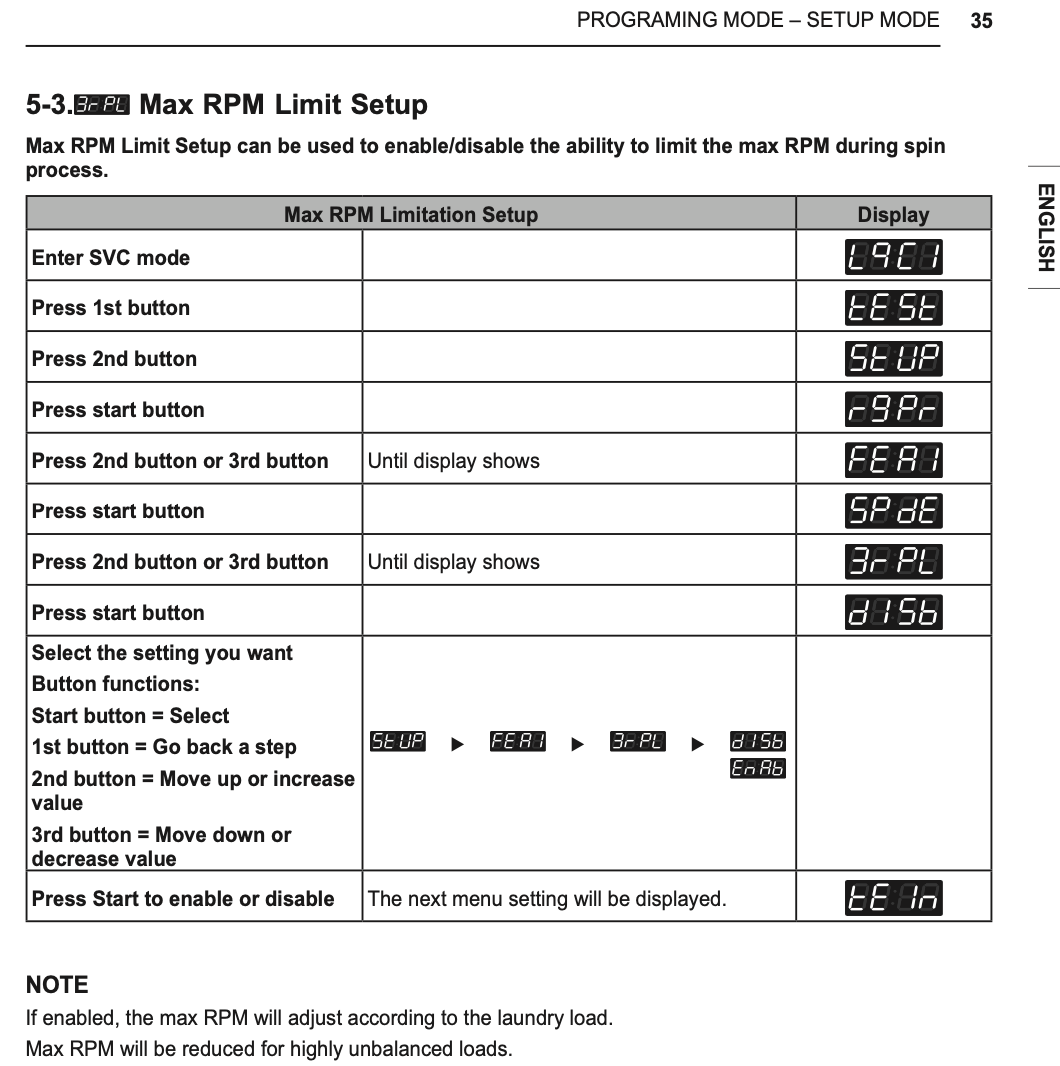 Pause function setup (PAUS)
Set to 'Enabled'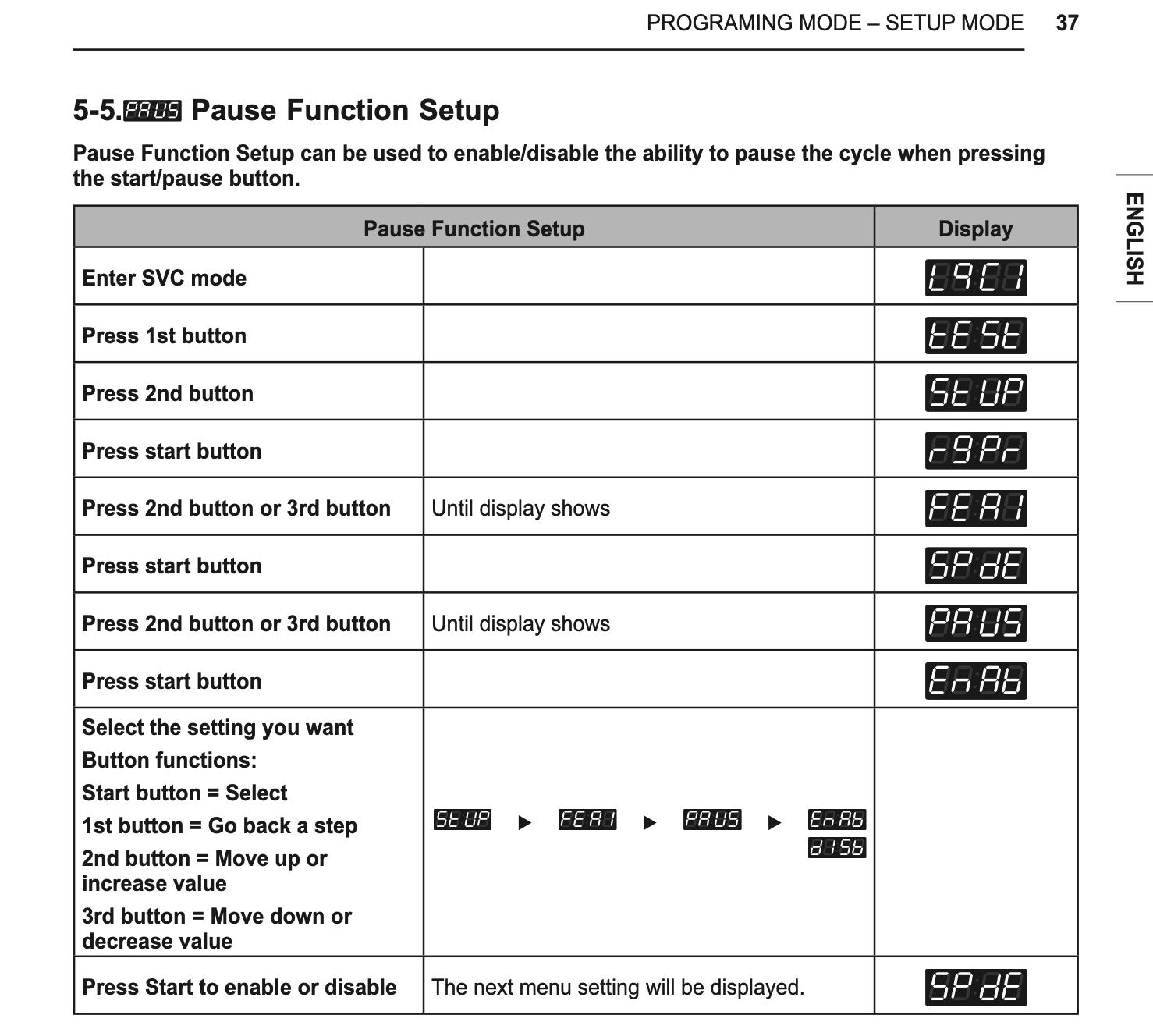 Twin spray (tEin)
Set to 'Enabled'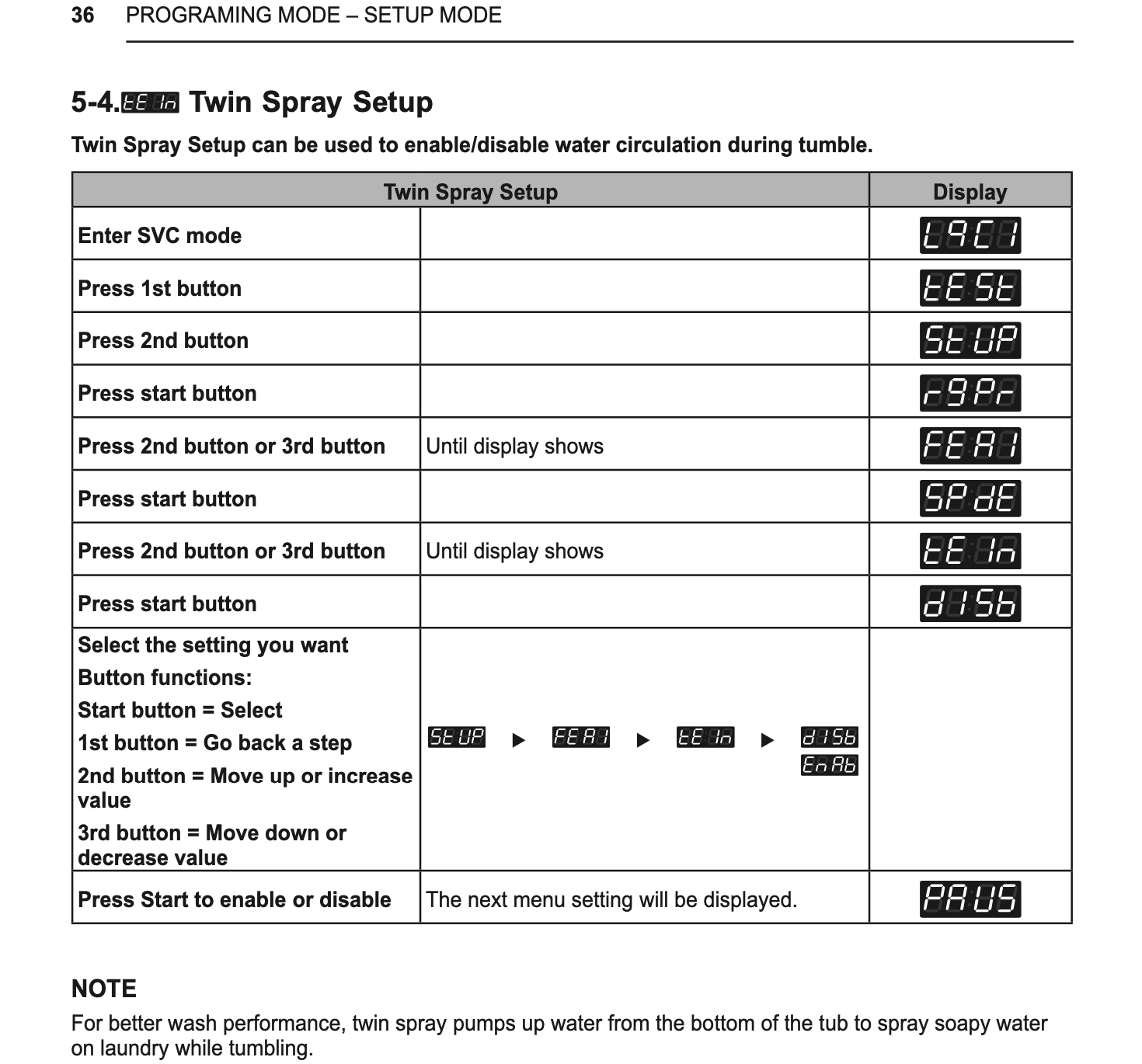 Tub clean heating shortcut button (TcBt)
Set to 'Enabled'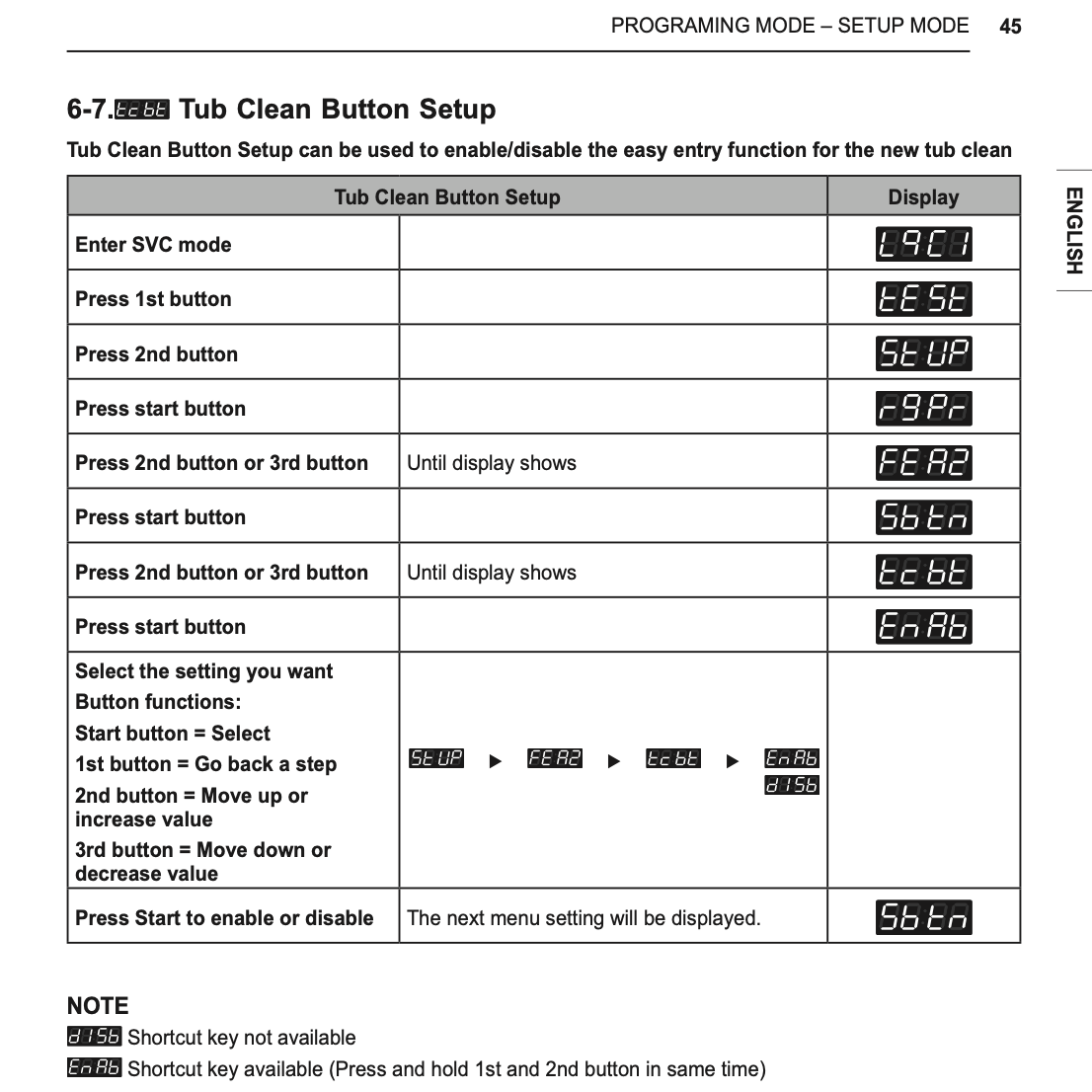 Create spin cycle only (Custom Program)
Option A (Preferred): Making a custom spin only cycle allocated to "Add Super Wash" button
Press 'Hot' and 'Cold' button at the same time
Press 'Warm' 3 times. Press start
Press Hot
Press Warm
Press Start
Press Warm - Display should read CUSt for custom
Keep pressing start until the screen displays "Proc"
Press start to enter proc
Press warm once or twice until 'Spin' is displayed
Press start
Press start about 20 times (it will enter a loop)
Press the Hot button a few times until you reach the "PUSH" screen again.
To activate spin only, press 'Add super wash' then press start
11 mins should display if successful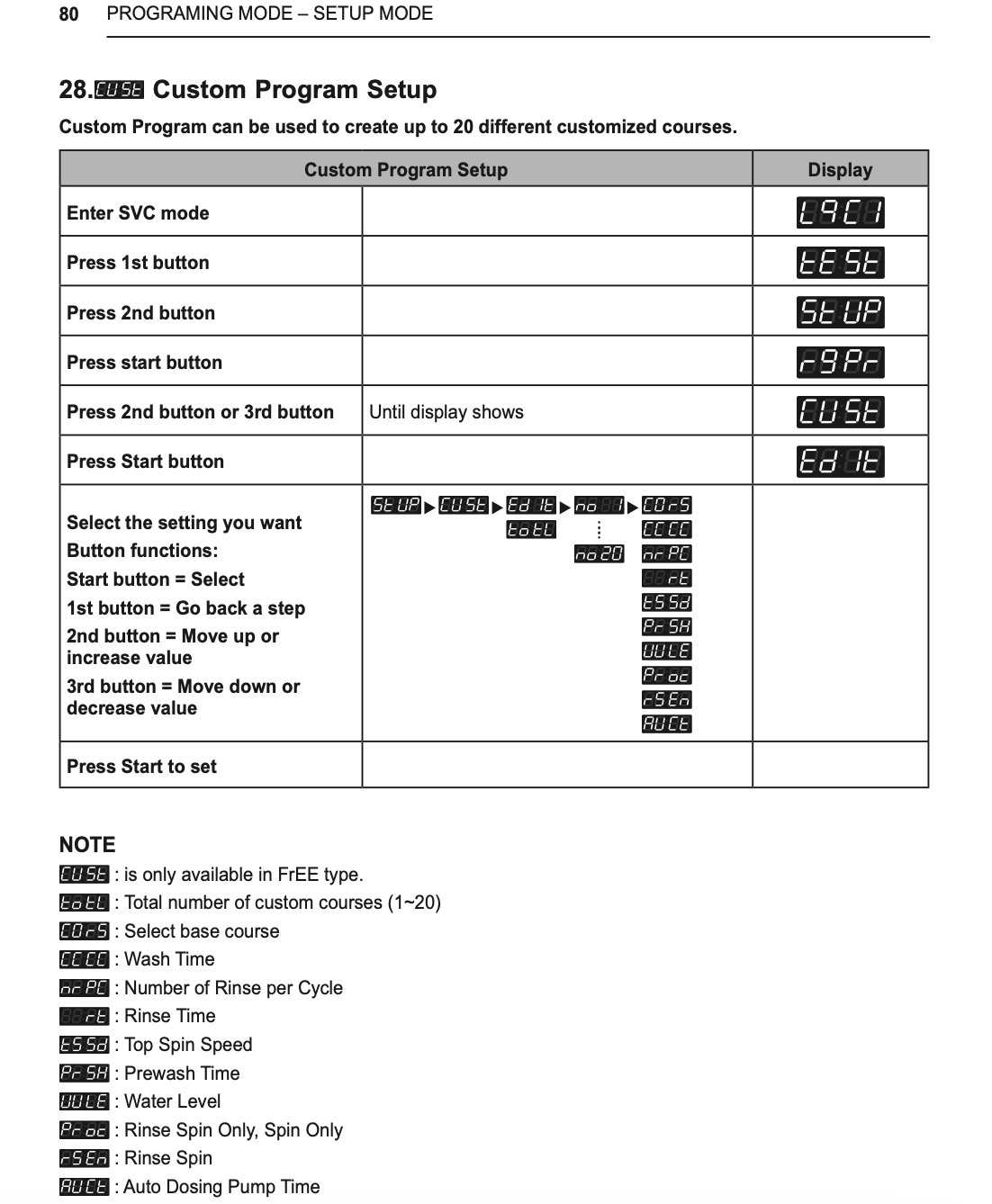 ---
Was this article helpful?
---
What's Next